Airgest – the Trapani Airport Management Company since 1992 – is a limited company made up by 99% of Public Bodies.
As airport manager – pursuant to article 705 NAV. CODE, it guarantees:
design, implementation, development, maintenance and use of the airport infrastructures, system and areas;
management and development of overall airport activities;
management of passenger, baggage and goods safety checks;
control and coordination of the activities of the different airport operators.
All these operations are performed under the control and supervision of the ENAC – Ente Nazionale dell'Aviazione Civile, (Italian National Civil Aviation Authority) – with whom Airgest Spa, on June 27, 2012, has stipulated a 30-year Concession for Managing the Trapani Birgi Civil Airport Infrastructures, which has recognized its role as Directing Manager of the airport infrastructures.
All this in addition to the Certification – obtained in December 2008 – attesting the compliance of the airport infrastructures and of the manager organization to national and international standard requirements, and thus their suitability for commercial air traffic operations.
Furthermore, Airgest is also a handler – currently the only one at the Trapani airport – in charge of passenger, baggage, aircraft and goods services. Also these services were certified by ENAC, pursuant to art. 13 of Italian Legislative Decree no. 18/99, and ENAC Regulations of 19.12.2006.
In compliance with DPCM 31/12/98, Airgest periodically edits and publishes its "Service Charter" to present the Trapani airport structure, the characteristics of the services offered and the qualitative standards. For additional information, and to download the latest version available, click here.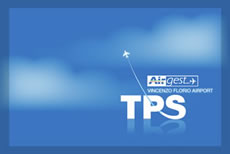 AIRGEST S.p.A. Institutional Brochure
Download the PDF version
ORGANIZATIONAL CHART
President: Savatore Ombra

Board of Administrators:
Salvatore Ombra
Scimeca Alessandra
Geraci Giuseppe
General Manager:
Download the Organizational Chart
Gerlando Piro (President)
Statutory Auditors
Silvia Ceccarelli
Stefano Varvaro
Independent Auditor: ACG Auditing & Consulting Group srl
Political and Administration director Government Assignments